Trigger Warning: The following includes references to abuse.
One of the biggest surprises of the Academy Award nominations this year was seeing Angela Bassett earn a nomination for Best Supporting Actress for Black Panther: Wakanda Forever, becoming the first performance from a Marvel film to earn that recognition. Bassett is largely expected to be the frontrunner in the race, as she has thus far taken home the prize at both the Golden Globes and Critics Choice Awards. Her competitors seem to be on more uncertain ground; Stephanie Hsu and Jamie Lee Curtis may split the Everything Everywhere All At Once vote, Hong Chau's performance is in a divisive movie with many strong detractors, and Kerry Condon sadly might be too unknown to take home a victory. While it would be nice to see Bassett earn a trophy honoring her career, she deserved this prize almost three decades ago for her performance in Strange Days.
What Is 'Strange Days' About?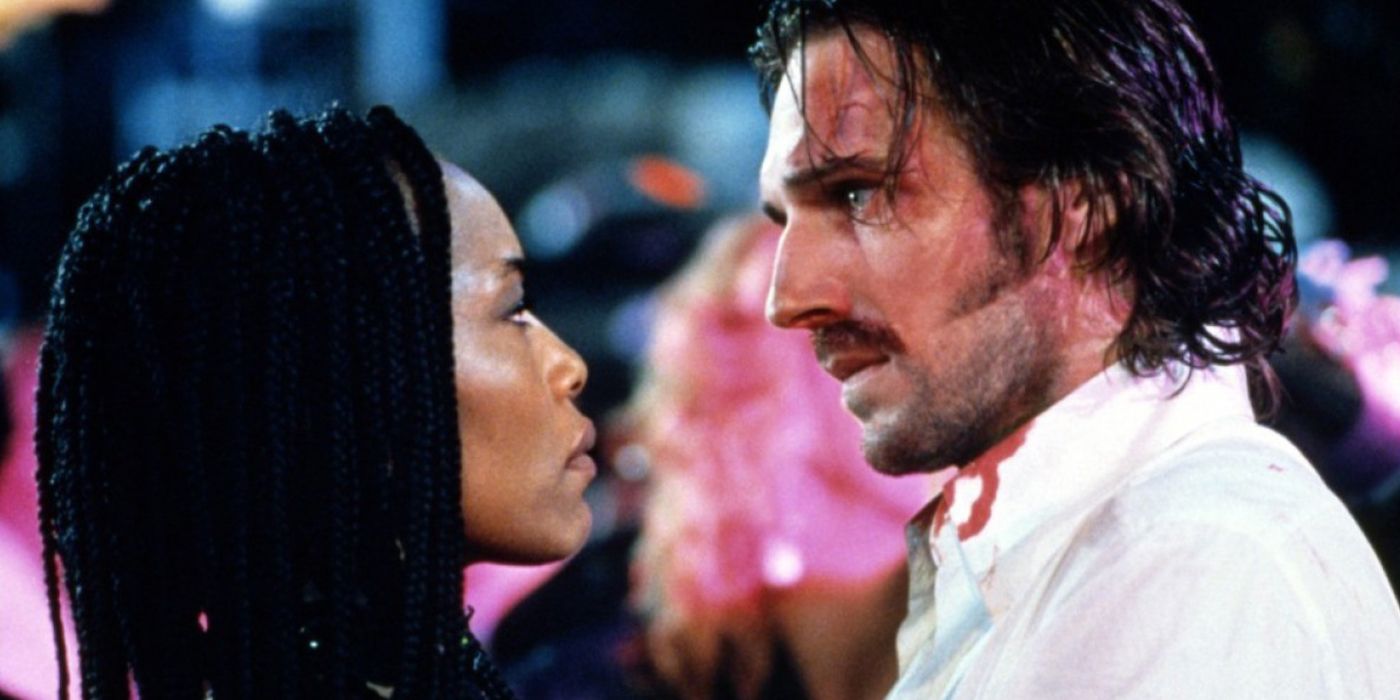 Directed by Kathryn Bigelow, Strange Days is a cyberpunk crime mystery thriller that takes place on the eve of the Y2K revolution; back in 1995, this was considered futuristic! Bigelow's vision of the future isn't that far removed from what the 1990s actually looked like, but the story of Strange Days focuses on the black market trading of small recording devices that capture memories and allow accessors to experience their physical sensations. The illegal device trader Lenny Nero (Ralph Fiennes) begins to investigate the death of the prostitute Iris (Brigitte Bako), and realizes that he's witnessed just part of a larger conspiracy involving the police force and generations of coverups. In order to dig into what he's uncovered, Lenny relies on the help of his longtime friend, the limousine driver Lornette Mason (Bassett), also known as "Mace."
RELATED: Angela Bassett Initially Objected to Queen Ramonda's Story in 'Black Panther: Wakanda Forever'
Strange Days was an infamous financial disaster that provoked confused responses at the time, but years later it feels incredibly prophetic. Beyond the film's depiction of sensory digital experiences and the mania of black market content smuggling, the film addresses the nature of police brutality and the institutions that protect it. This is brought to life in vivid detail through Bassett's nuanced performance; she carries a justified anger within her that she's kept buried beneath her demeanor, and in the film's most heartbreaking moments we see her own experiences with the cops that shaped her cold attitude. It's the type of layered performance within a genre movie that deserved awards recognition, and Bassett is a large reason why Strange Days is still a cult classic today.
As Mace, Angela Bassett Delivers a Nuanced Performance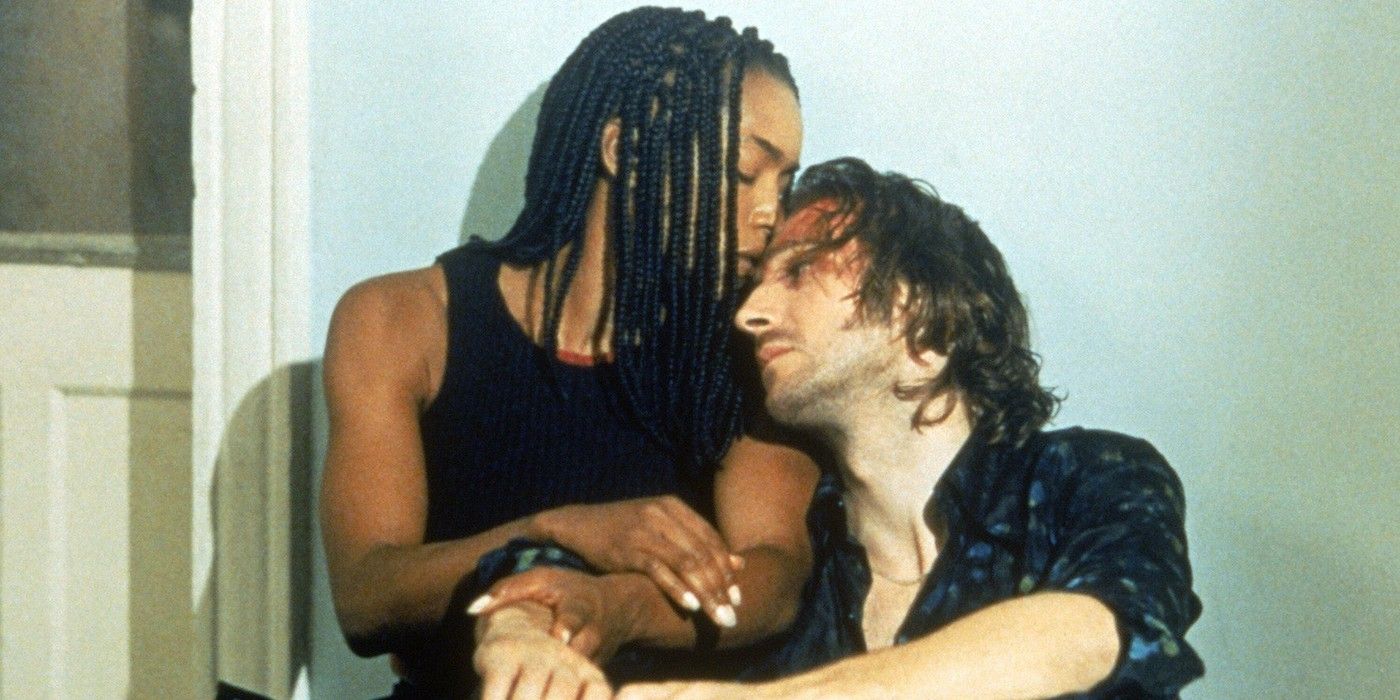 As you may expect from a film that focuses on the conception of memory, there's a lack of background details about the characters at first that is slowly unraveled as the story continues through flashbacks. When we first are introduced to Mace, she's a chilly, yet hardworking driver who just wants to get to the end of her shift without facing any annoyances from Lenny. Genre films like Strange Days require a tactile, realistic edge that allows viewers to relate to them, and Mace's determination to maintain her professionalism amidst obnoxious clients and last minute detours instantly connects us to this time and place. She subtly hints that not only does she need to keep her composure polished considering her wealthy clientele, but that in a competitive industry it's often that Black women are the first to go.
Mace and Lenny's interactions are fraught with a friction that at first seems to be purely because of how obnoxious the black market trader is; he invades Mace's privacy while she's at work, demanding that she listen to his wild story about witnessing the murder of Iris. Angela Bassett's exasperated expression shows that while she's been led into many pointless errands as the result of Lenny's claims, she has to admit that his latest story seems like it may have some merit. She feels a sense of loyalty, but keeps her distance in a manner that suggests so much more.
Mace Is Haunted By Her Tragic Past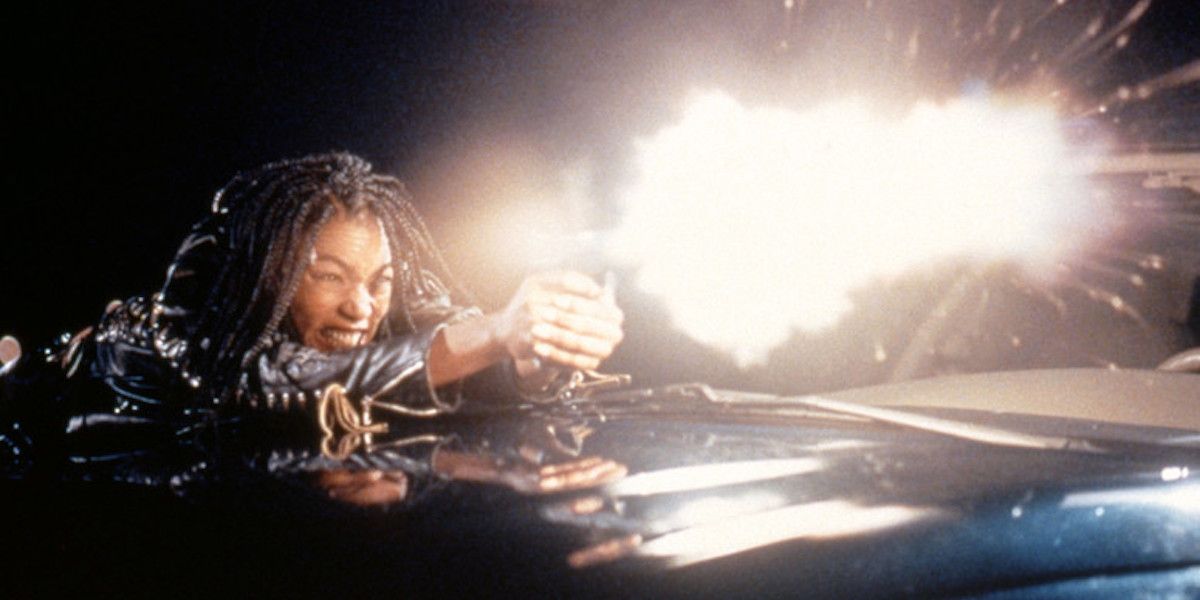 Eventually, Bigelow unravels what traumatic experiences were driving Mace; she had come to rely on Lenny as a substitute husband and father to her young son after her boyfriend was arrested on criminal charges of drug abuse. A flashback scene to his arrest encapsulates Mace's most dehumanizing moment; she's brutalized as she watches her boyfriend dragged from their apartment, and Lenny's simple show of compassion comes to her aid at just the right moment. However, his association with the police will always put up a slight barrier between the two of them. There are hints of a potential romance that may have blossomed, and Bassett bites down on showing any obvious signs of jealousy as Lenny pines for his ex-girlfriend Faith (Juliette Lewis).
While she's clearly carrying a lot of heartbreak on her shoulders, Mace is never anything less than an inspiring action hero when the film kicks into the investigation. Mace is more than just Lenny's driver; it's her level-headed perspective and inventive knowledge of the city that allows them to proceed with caution, and in one epic chase sequence she's able to rescue them from burning to death by driving into a harbor. We also see Mace's humanity as she and Lenny discuss their options in the wake of discovering the evidence of a police coverup, as they're well aware that the release of the file could incite a citywide riot.
'Strange Days' Builds to an Incredible Finale
The final act of Strange Days is inflammatory; Mace and Lenny spend their last moments of the millennium pinned down by cops in the midst of a massive public rampage as the murderous activities of the cops Dwayne Engelman (William Fichtner) and Burton Steckler (Vincent D'Onofrio) are unveiled to a furious crowd. Bassett does an incredible job at showing the confused emotions that flash before Mace's eyes; she's given into the chaos, as she knows that this is a revolutionary moment that needs to occur in the most public way possible. The final kiss she shares with Lenny confirms a mutual commitment to justice, but also an escape from the stress of this seemingly unthinkable scenario.
Angela Bassett has been giving incredible performances for years after her first Oscar nomination for What's Love Got To Do With It, but she's undeniably become an icon in blockbuster, science fiction, and horror filmmaking by taking these projects seriously. Perhaps she never expected to win an Oscar for playing the Queen of a fictional country in a superhero movie sequel, but Wakanda Forever gives the Academy Awards a chance to honor someone that's been due a career win for far too long. Strange Days wasn't appreciated in its own time, but looking back on how predictive it was, Bassett's devastating performance epitomizes many of the discussions about race relations that we have today.