This is a post we publish each Friday with links to articles that touch on economic inequality and growth. The first section is a round-up of what Equitable Growth published this week and the second is relevant and interesting articles we're highlighting from elsewhere. We won't be the first to share these articles, but we hope by taking a look back at the whole week, we can put them in context.
Equitable Growth round-up
On July 12, the National Bureau of Economic Research kicked off its summer institute, an annual 3-week conference featuring discussions and paper presentations on specific subfields of economics, including inequality and the macroeconomy, intergenerational mobility, automation and the future of work, and occupational segregation. Equitable Growth compiled a list of paper abstracts that caught our attention throughout the first week, including research from our grantee network and members of our Steering Committee and Research Advisory Board. For highlights from week two, be sure to check back on Monday, July 26.
In the latest installment of Worthy Reads, Brad DeLong provides his takes on must-read content from Equitable Growth and elsewhere.
Links from around the web
Last month's intense record-breaking heat in the Pacific Northwest led many workers in Oregon to fear for their lives, reports HuffPost's Dave Jamieson. The state's Occupational Safety and Health Administration received more than 100 heat-related complaints in the final week of June alone, reporting unsafe conditions in various industries and workplaces. Jamieson explains the challenges that many workers will face as heat waves become more common, particularly in typically cooler climates that are ill-equipped to handle such high temperatures. He then goes into detail about the complaints, which frequently centered on a lack of air conditioning, water, or sufficient breaks for workers.
In a guest essay for The New York Times, Susan Joy Hassol, Kristie Ebi, and Yaryna Serkez detail the impact of extreme heat around the world. They focus on the increase in deaths and other health incidents as a result of heat waves, both in the United States and abroad. They put together a series of maps that show how annual heat-related deaths could increase by almost 100,000 in the United States by the end of the century if no action is taken to reduce emissions and combat human-caused climate change. They then urge policymakers to not only act to reduce emissions but also implement heat action plans, worker protections, and infrastructure updates to bolster the power grid in the face of rising heat-related disruptions.
Millions of U.S. adults who are looking for jobs do not have a bachelor's degree, while many employers complaining about labor shortages also unnecessarily require a college education for their open positions. This bias is preventing companies from gathering a talented and diverse workforce and is reinforcing economic inequalities, writes Byron Auguste in The Washington Post. While higher-education degrees are certainly necessary in some fields such as medicine, law, and engineering, he continues, they make little sense as a requirement for others, such as sales or marketing, where skills can be learned on the job or through alternative pathways. This college-degree discrimination affects Black, Latino, and rural workers the most, reinforcing racial and socioeconomic disparities and causing serious harm to the U.S. economy and workforce.
Friday figure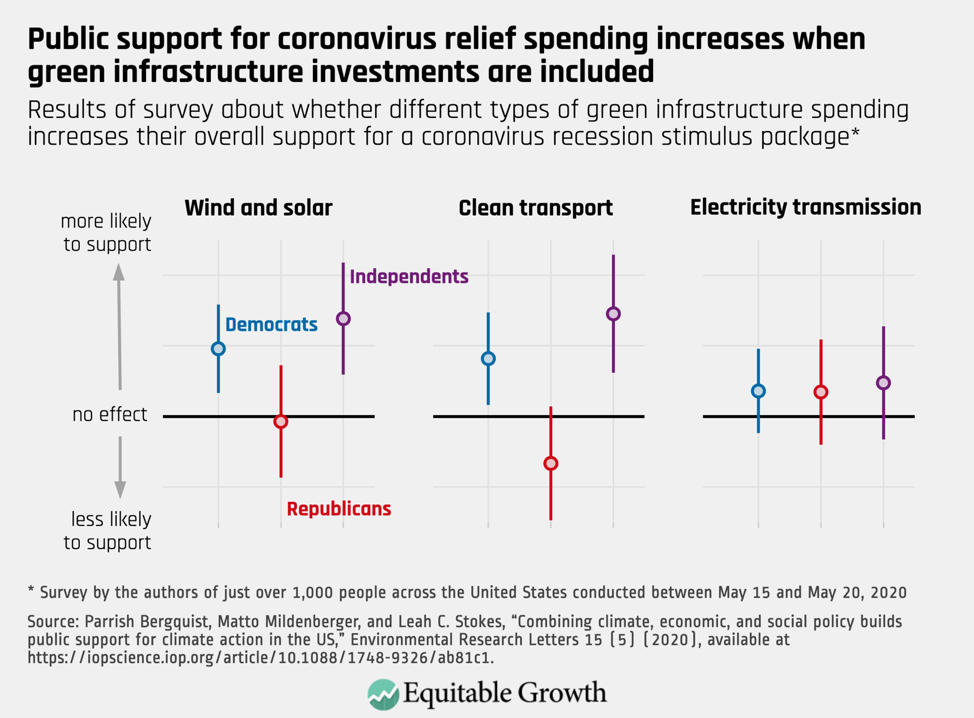 Figure is from Equitable Growth's "Americans want green spending in federal coronavirus recession relief packages," by Parrish Bergquist, Matto Mildenberger, and Leah Stokes.